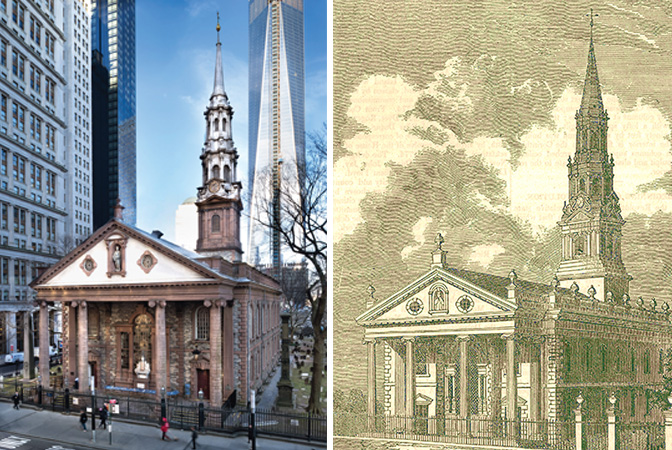 Built in 1766, St. Paul's Chapel is the oldest public building in New York City and has been in continuous operation for over 250 years. When its sister parish Trinity Church (built 1698) burned down in 1776, St. Paul's Chapel served as the primary place of worship for the likes of George Washington while Trinity was rebuilt. This august, historic, sacred space contains one of the two earliest public depictions of The Great Seal of The United States, of which visitors to this site have so recently read.
And St. Paul's Church is also the place where my critique of the impertinent treatment and presentation of The Great Seal gets laughed out of town like a mobbed up president's stooge claiming attorney-client privilege.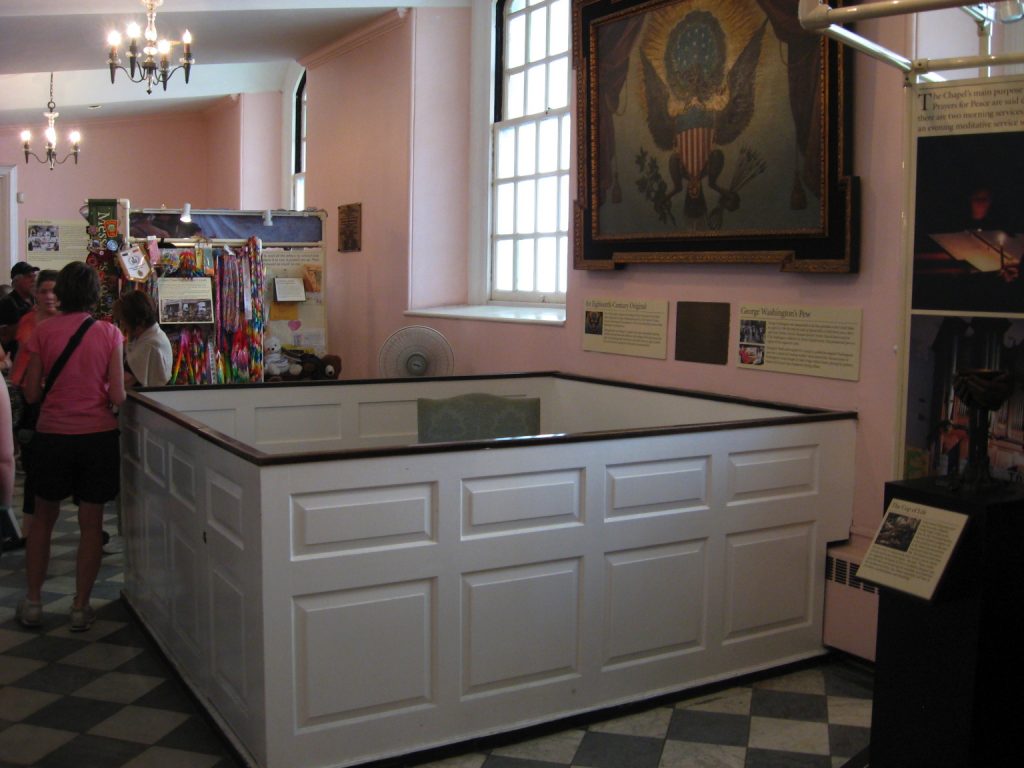 Behold the wide shot of the painting of The Great Seal hanging in its original spot, over the Washington Family Pew (reconstructed to some non-original spec, apparently some time after the radiators went in), and sandwiched in between World Trade Center Relief Swag exhibitions made of PVC jungle gym and clip-on tracklights? Are these original, historic exhibition fixtures made by first responders in October 2001?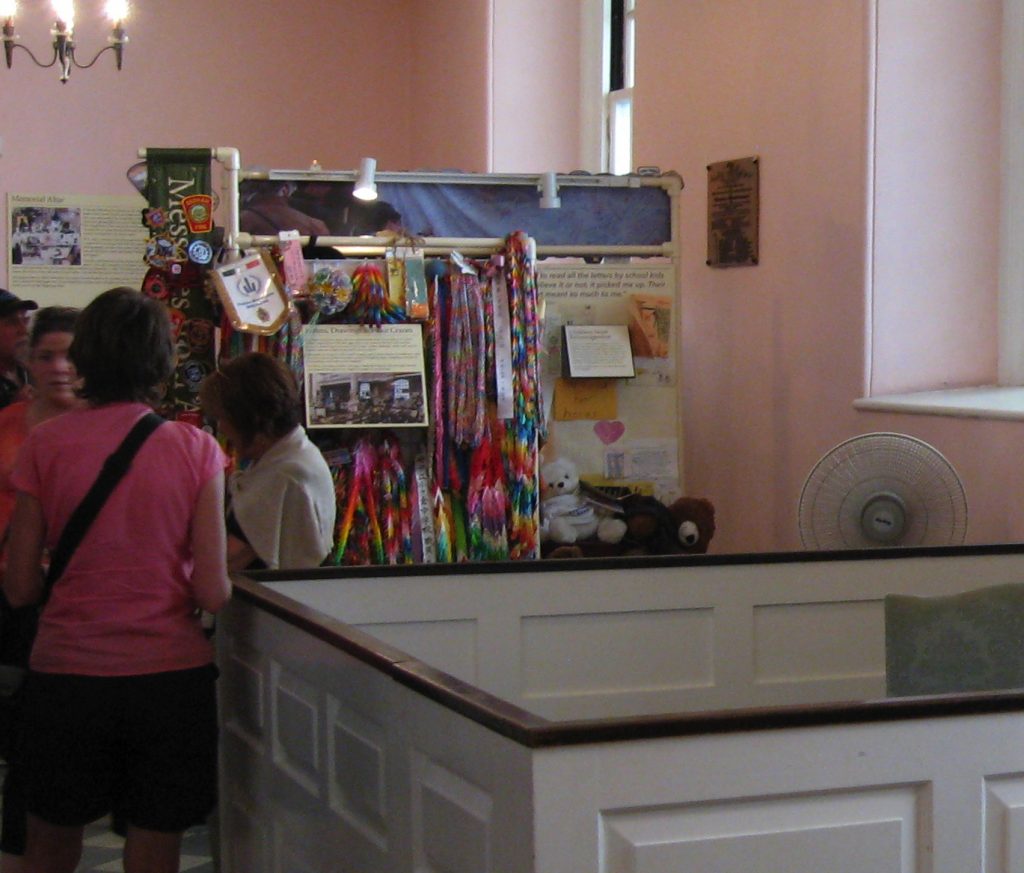 Is it still there? Because this photo was taken in 2013 by historian/blogger Michael Lynch. So maybe it's gone? I honestly don't know whether to scream or ask for their fabricator's contact info, whether to help one of the richest parishes in the country Kickstart some proper vitrines or take a vow to never show work again without a PVC kiosk.
But Professor Lynch is not through. He also went to Federal Hall, the site (but not the building) of George Washington's inauguration on April 30, 1789. I have stood on the porch of Federal Hall. I have seen a musical version of the life of JP Morgan performed on the steps of Federal Hall. I have gone to the gym many times across the street from Federal Hall, but somehow I have never been inside Federal Hall.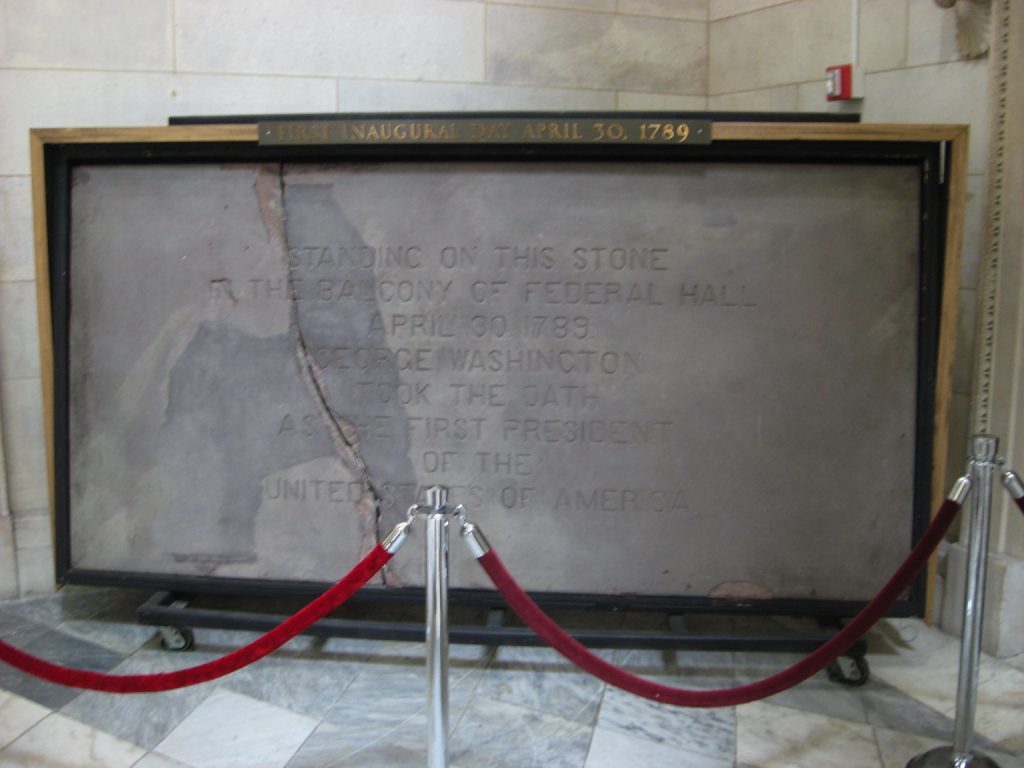 So I have not known about the slab of the balcony from the original Federal Hall, which is on display there. The National Park Service calls it a balcony, but looking at this engraving of Washington's inauguration, I might call it a loggia.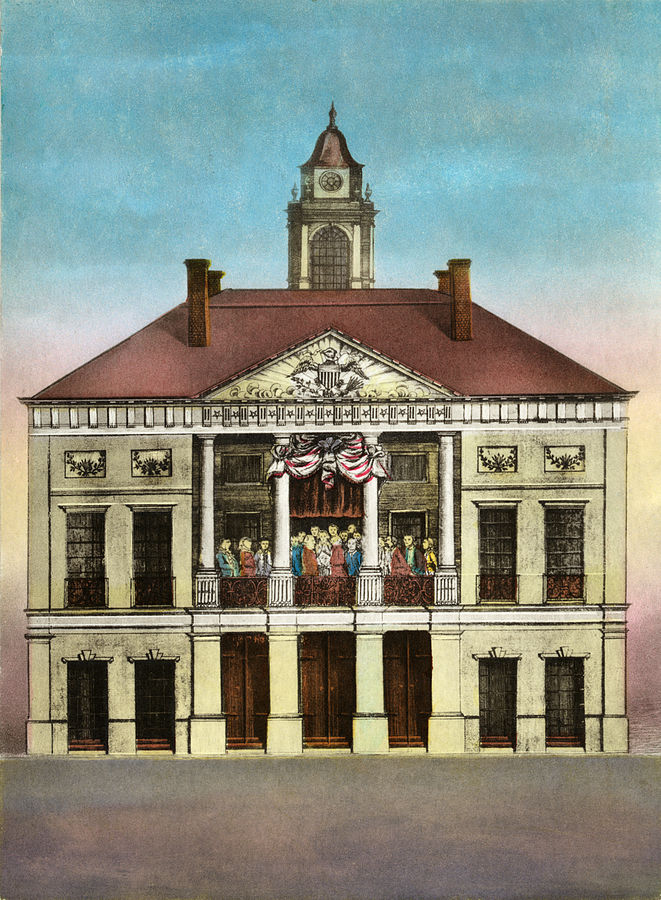 Anyway, despite being the site of the 1st Congress, the formation of the United States, the adoption of the Bill of Rights, and Washington's inauguration, Federal Hall went back to being City Hall when the capital decamped to Philadelphia in 1790. And then New York City tore that place down in 1812 when they built their new City Hall.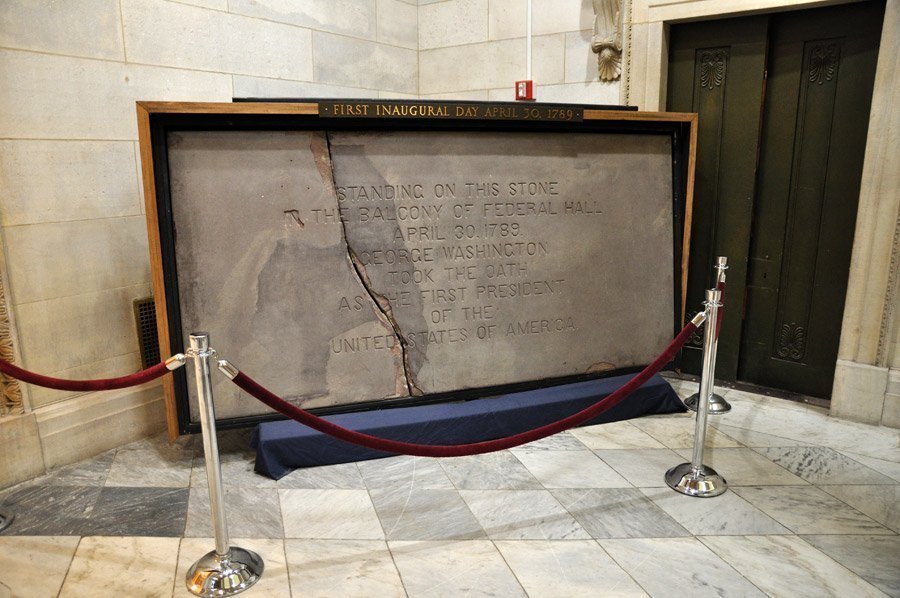 Fragments of the building were saved, including this piece of brownstone from the loggia, which apparently went on display at Bellevue Hospital until it was returned in 1889, for the centennial. And it was given a coat of concrete, so they could carve it. And it was put in a frame on little wheels so it could be rolled around. Oops, it broke. At least now we can see the actual stone under the concrete skin, the part where the concrete repair came off also.
Here is a concrete-coated-and-carved piece of stone which you can barely see the original of, which used to be on the building here, till we tore it down, and anyway, George Washington probably stood on this to found our country. Or near it, it's really hard to say. But this is how we do, and it apparently always has been.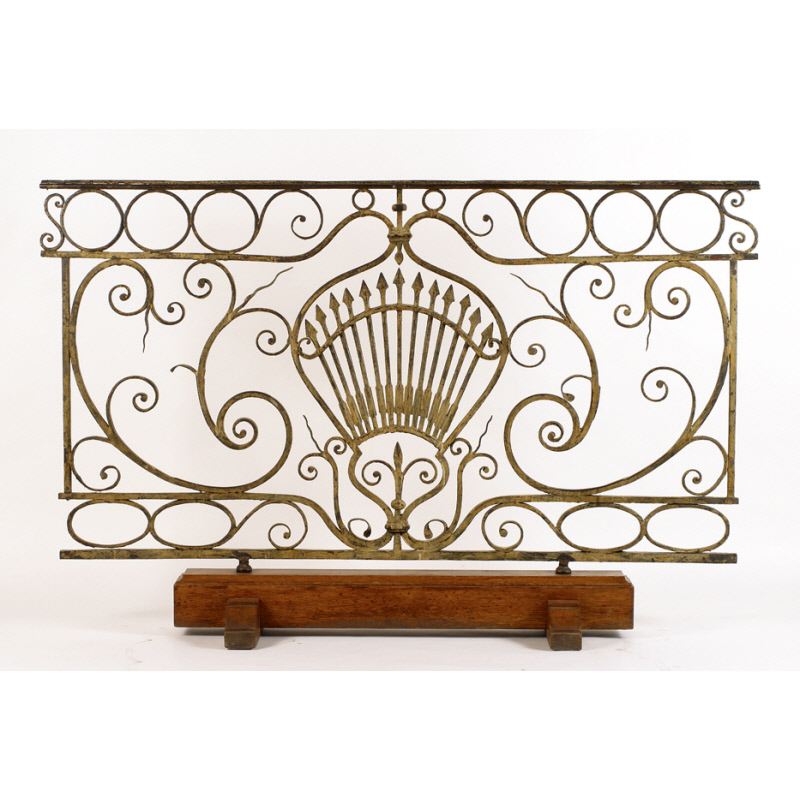 Fragments of the building were saved. In a minute I have found another: the balustrade of the balcony where Washington was inaugurated. It, too, went to Bellevue, where it was incorporated into a portico. Perhaps this stone was, too? Anyway, in 1883 the balustrade went to the New York Historical Society, where it remains. [Interesting. A 1917 catalogue of Old New York views distinguishes between the NYHS and Bellevue balustrades.] It is positively lyrical. Was it by Pierre l'Enfant, who was commissioned to renovate Federal Hall in 1788? Yes. It is dated 1788-89. Thirteen arrows. Wrought iron painted yellow-gold. The New York Historical Society was headquartered in Federal Hall in 1809 and took the city's donation of some of the original furniture.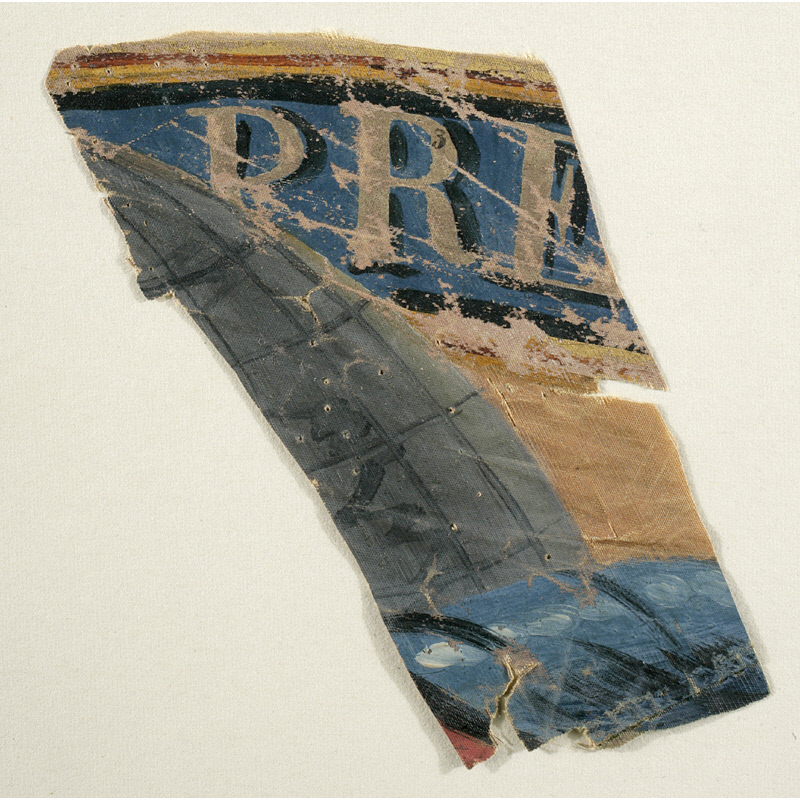 And back to painting. Here is a fragment of a flag flown at Washington's inauguration. It is about four inches square, paint on silk, with part of the word PRE[sident] visible.
I don't yet know what to do with this information and these objects, but it must be something.
Previously, related:
Untitled (George Washington's Coffin), 2016–
This window from Hanford is being sold as 'Manhattan Project Glass'
The hydrogen gas generators of Prof. Thaddeus SC Lowe's Union Army Balloon Corps