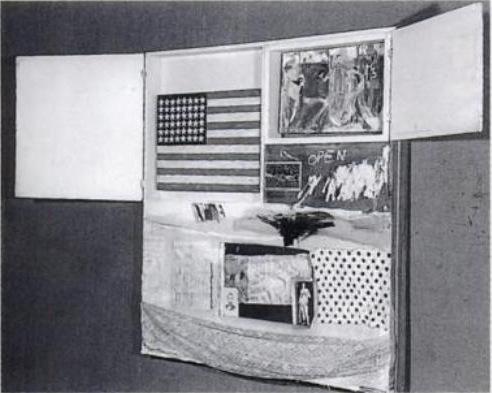 The first thing that was blowing my mind about Short Circuit was not just, how could there have be a Johns Flag before the first [sic] Johns Flag, but how could there be a missing Johns Flag? I mean, seriously, wouldn't that be rank just below the Gardner Vermeer in terms of stolen art? How could it be missing and the entire art world not have its eye out for it?
In fact, it's just the opposite situation, where, when they're not ignored completely, the stories of Short Circuit and its flag painting are misunderstood, misrepresented, and relegated to footnotes. It just didn't make any sense.
But it also seemed that as long as Short Circuit was ensconced in Rauschenberg's own collection, and Sturtevant's replacement flag was in place, no one had ever undertaken an actual search for it, or an investigation into what had happened.
And given the nature and history of the relationship between Johns and Rauschenberg, and the extraordinary custody agreement they reached, which Johns wrote about in 1962, to never show, reproduce, or sell Short Circuit, it's always been an open question to me whether the flag was actually ever "stolen," or whether it was just missing. Or removed. Or disappeared [in either the transitive or intransitive sense of the word.]
The question I ended my first Short Circuit post with 18 months ago, which should have been the easiest question to answer, turned out to be one of the most complicated: Was the Short Circuit flag ever registered as stolen?
The first and shortest answer was no.