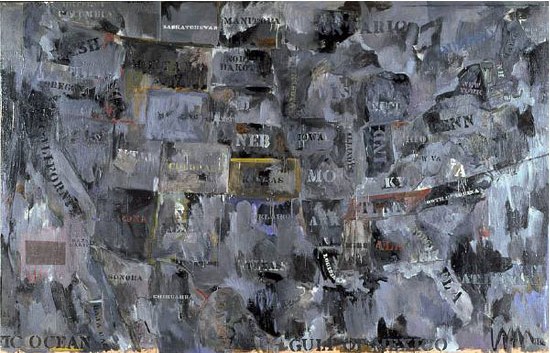 Map, 1962, Jasper Johns, via moca.org
For her contribution to the Jasper Johns Gray (2007) catalogue, Barbara Rose writes about the history and significance of Map, 1962, the artist's first big, gray masterpiece. Johns made it to raise money for his new Foundation for Contemporary Arts, which was founded to stage some performances of Merce Cunningham. Marcia Weisman bought it out of Johns' studio and ended up leaving it to MoCA.
Rose suggests that Johns' Map paintings are akin to battlefield maps, and that the gray one, in fact, resonates with a particular Civil War battle, the Battle of Antietam. She cites Johns' own South Carolina upbringing, the centennial commemoration of the Civil War that was in the news in 1960-2, and a series of paintings by Frank Stella which drew some of their titles from Civil War battlefields. [Rose was married to Stella at the time, of course, and also refers to one diptych from the series titled Jasper's Dilemma.] Also, Rose writes, "The difficult realities of Johns's personal life coincide with the idea that this map pictures a battlefield."
After recounting some formalist skirmishes with General Clement Greenberg's troops, Rose zooms in on the surface of the painting and on some of the collaged elements in Map that Johns intentionally left visible:
Topographically, the hills, ridges, and ravines of Johns's gray Map suggest geological strata bursting. Paint washes over the surface like sea spume or waves eroding coastlines. Known borders are changed or blurred. This transgression of boundaries is a physical fact of art historical as well as personal significance. The surface is scarred and scraped in areas so that the printed matter sealed into it with adhesive encaustic is visible. The most tantalizing fragment is not newsprint but part of a page, probably ripped from a paperback book Johns had in his studio. One can make out the words "intense feelings of guilt and self-disgust," as well as "rebel" and "orgiast." These chosen and deliberately revealed phrases participate in Johns's game of peekaboo, which he plays with his audience, much as a stripper suggests that more will be revealed with each succeeding fan flutter.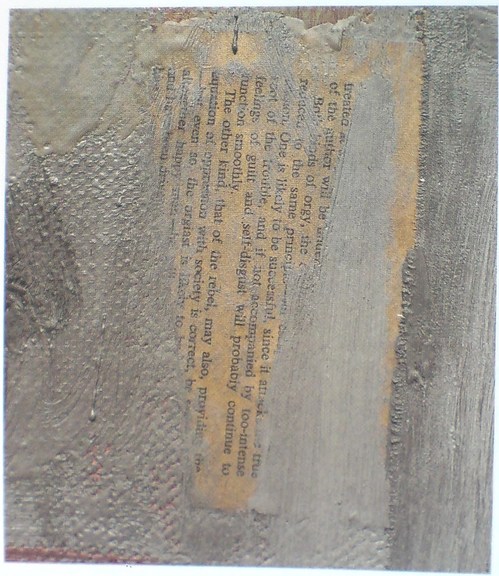 Map detail, via Jasper Johns Gray
Lots of interesting stuff, but I am most fascinated by the overall strategy Rose adopts, of floating the connection to "the difficult realities of Johns's personal life," and then going both wide and deep about everything but.