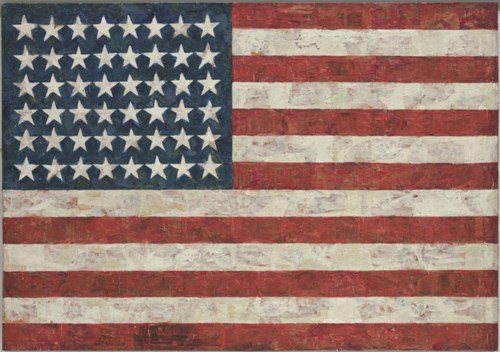 Flag, 1954-55, via moma
The creation myth for Jasper Johns' Flag is well-known, and well-told. Like Leo Castelli's story of discovering Johns' groundbreaking oeuvre, fully formed, while he and Rauschenberg were raiding the icebox, and how Johns' first show in 1958 got on magazine covers, sold out to MoMA, destroyed Abstract Expressionism and ushered in Pop Art. MoMA's wall text for Flag [which Alfred H. Barr had Philip Johnson purchase from that show] begins:
"One night I dreamed that I painted a large American flag," Johns said, "and the next morning I got up and I went out and bought the materials to begin it."
It came in a dream. It's a protean story, quintessentially American, slightly romantic, and beyond the reach of anyone but [Freudians, Jungians, and] the artist himself. And that's the key: because unfalsifiable is not the same thing as definitive, or even true.
In the opening of her 1975 dissertation, published in 1985 as Jasper Johns' Paintings and Sculptures, 1954-1974, Roberta Bernstein takes a researcher's step back:
When asked about the sources of Flag, 1954-55, Johns answers that he dreamt one night of painting a large American flag and then proceeded to do so. He has said this several times and will offer no other explanation for the appearance of this remarkable painting.
In the footnotes, Bernstein cites Alan R. Solomon's catalogue for Johns' 1964 Jewish Museum show, as well as several personal retellings.
But check out this transcript of Solomon interviewing Johns in 1966 for National Educational Television's USA Artists Series. Then tell me if it doesn't sound like there could be another story–or several–for the origin of the flags?