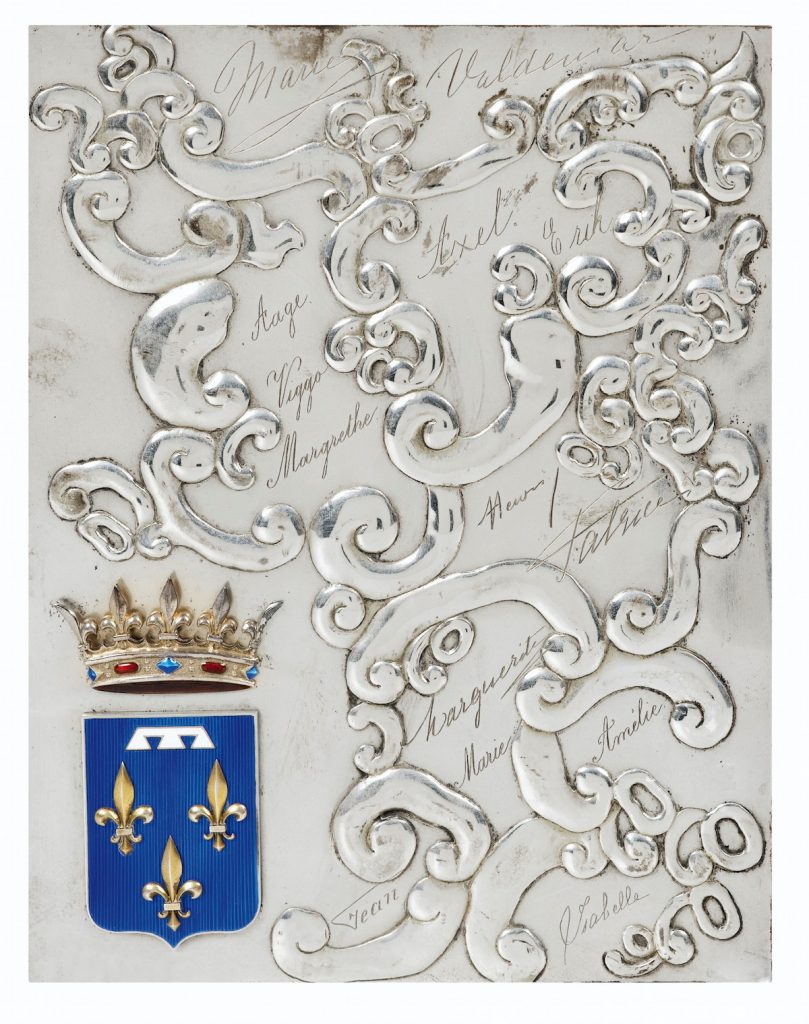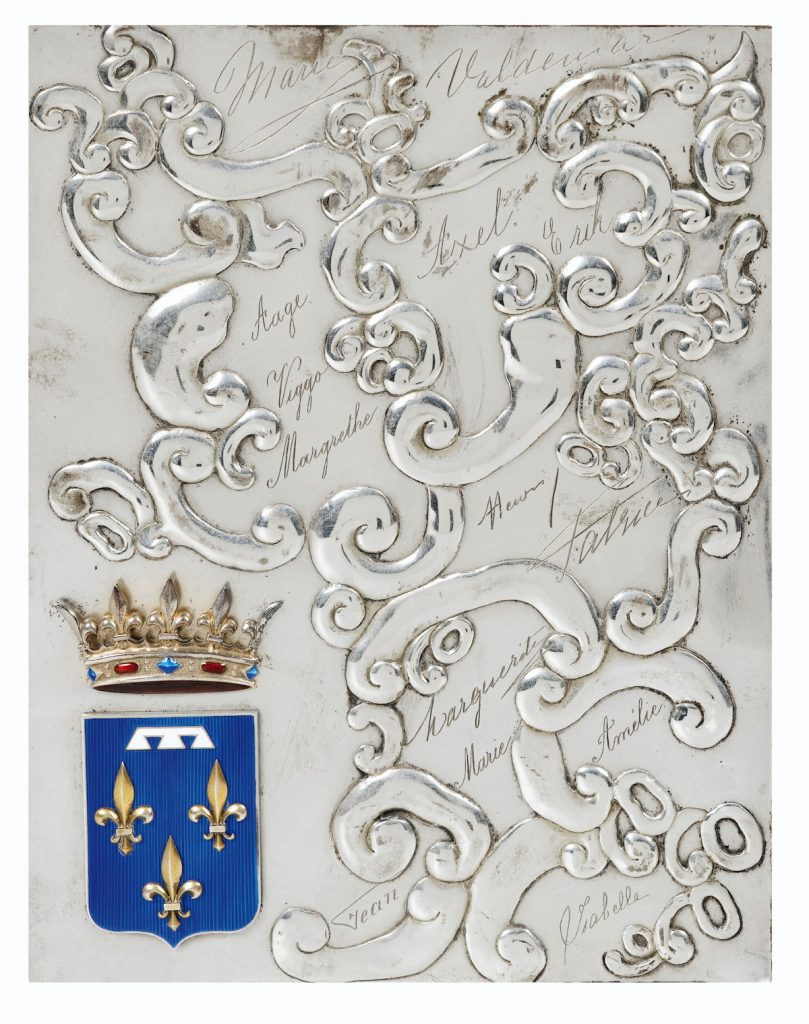 In 2015 Sotheby's auctioned a medium-sized trove of stuff from the former royal family of France, the House of Orléans. Included was this silver-plated and enameled bronze plaque, which featured the crowned coat of arms of the Princes d'Orléans, a bunch of repoussée auricular swags, and fourteen engraved signatures.
The plaque is believed to have been created for the cover of a photo album to commemorate the 1931 marriage in Palermo of Henri, comte de Paris (22yo) to his cousin, princesse Isabelle d'Orléans-Bragance (19):
Les signatures sont très probablement celles de Henri (comte de Paris) et Isabelle (princesse d'Orléans-Bragance, comtesse de Paris), Valdemar (prince de Danemark), Aage, Axel et Eric (princes de Danemark, comtes de Rosenborg), Amélie (princesse d'Orléans, reine du Portugal), Jean (futur grand-duc de Luxembourg), Margrethe (fille de Charles, duc de Vestrogothie et épouse du prince Axel de Danemark), auxquelles il faut ajouter quatre signatures non attribuées, Marguerite, Patrice et deux fois Marie.
It seems pretty wild to me. There was no foolin' around with the coat of arms, obviously, but everything else seems to have been improvised in the extreme. The signatures–all first names–are distinct in their style, and wild in their placement. Those swags look like doodles come to life. It's like the young wedding party drew up a souvenir themselves on the spot, and handed it off to the silversmith, a melange of extravagance, intimacy, and whimsy.
I knew a woman who was a bridesmaid for Grace Kelly, and received a customized photo album of the event. I later saw a similar album from another wedding party member turn up at Glenn Horowitz in East Hampton. Which makes me wonder if there are indeed multiple albums from Henri & Isabelle's wedding, sitting in the bibliotheques of the descendants of various cousins royal. And if so, do they have these plaques, or something related? Was this a proof, a spare, a prototype?
Part of me wants this to be a unique object, and thus, a unique work, declared from afar, and sitting in the collection of some unsuspecting aristophile or decorator. But I'm also happy to declare it a multiple. Assuming this one's from the happy couple, eleven in the edition remain to be fabricated. RSVP.
2020 update: OK, I thought of this plaque last night, and wanted to see it, and the more I dig into the names, I think some of the information in the Sotheby's lot is incorrect. And that affects the date, and thus the very nature of this plaque.
Continue reading

"Untitled (Plaque d'Orléans), 2019"